1967 Born Llechryd, Wales
1985 Dyfed College Of Art Carmarthen, Foundation in Art.
1986 Work as an art supplies retailer.
1988 Illustrator for Ceredigion Museum, Aberystwyth.
1991 Work as film extra and in a bookshop and alternative clothes shop.
1993-94 Studies Classics at Lampeter University. Winner of Faber regional poetry competition.
1995 Studies for a degree in Humanities at Swansea. Takes year out to care for seriously ill mother.
2000-02 A job in a sewing factory. Moves to Cardiff. Works in the Visual Art Centre. Music broadcast on BBC Radio Wales, Adam Walton's Musical Mystery Tour, as DJ Ammon. Trance track "Journeys Of The Mind" on cover CD of Computer Music Magazine.
2003 Moves to the Rhondda Valley. Trains to become art teacher.
2004 Forms Cardiff Stuckists, after exhibiting in Wrexham with John Bourne.
2004- Painting, writing poetry and making music. Attends Stuckist demos and exhibited in Stuckist shows.
Exhibitions
2004 Cafe Cibus, Cardiff
2008 An Antidote to the Ghastly Turner Prize, View Two Gallery, Liverpool
2009 Stuck in Wood Green, Other Muswell Hill Stuckists, London
2009 Not the Groucho Club, Islington Arts Factory, London
2009 The Stuckists Christmas Sale, Matisonn Burgin Gallery, London
Links
Jacqueline Jones web sites: http://gator1040.hostgator.com/~jacqueli/
and www.welshpaintings.co.uk/gallery/JacquelineJones/P1.htm
Jacqueline Jones BBC profile

Stuckist Turner Prize demo 29 Sept 2008 at Tate Britain.
First photo, Center to right, Shelley Li, Edgeworth Johnstone, Jacqueline Jones.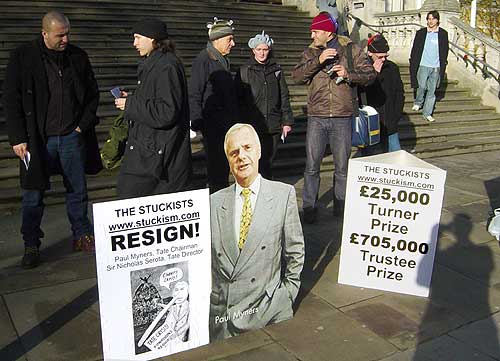 Stuckist Turner Prize demo 5 Dec 2005 with cutout of Tate Chairman, Paul Myners, at Tate Britain.
Left to right: Joe Machine, Remy Noe, John Bourne, Jacqueline Jones, Jiri Hauschka, Daniel Pincham-Phipps.