STUCKIST CLOWNS DOING THEIR DIRTY WORK
This show was initiated by Kyla Bullows, an independent curator, who staged it at Artspace Gallery in Mayfair, London, and liaised with the Stuckists.
During the hanging, Vivian Choi, the gallery manager, ordered Paul Harvey's painting of Charles Saatchi to be removed from the window for reasons which are not entirely clear. This led to media coverage and a campaign on the show's Facebook page for it to be reinstated.
The Saatchi Gallery, responding to an email from Stuckist co-founder, Charles Thomson, said they had no problem with the display of the painting.
Artspace gallery then announced the show would be closed down after five days (a week early) - which created more media coverage. It was uncertain on the afternoon of the private view whether it would still go ahead. It did, with the painting of Saatchi reinstated, but some people were told it was cancelled and did not arrive. It was also pouring with rain.
By this point, the relationship had broken down between Bullows and Choi, who agreed to continue with the show, if Charles Thomson took over the responsibility for it, which, with Bullows' agreement, he did.
The show featured the first public exhibition of Ella Guru's six foot wide painting, The Last Supper, based on Leonardo da Vinci's and depicting many likenesses of Stuckist artists.
The show goes on: see Newcastle Journal (28.8.10) and Coxsoft (27.8.10).
For the back story see Dow Jones Financial News (26.8.10), Daily Mail (7th item) (26.8.10), Coxsoft (26.8.10), Spoonfed (25.8.10), Evening Standard (24.8.10) Philippa Adams, Senior Director, Saatchi Gallery, emailed us, "Charles Saatchi is presently away, but I can confirm he would not have any problem with Paul Harvey's painting being displayed."
See also Facebook page.

"the antithesis of the continuing vogue for high-concept pseudo-theoretical claptrap." - Spoonfed
Stuckist Clowns Doing Their Dirty Work

Artspace Gallery
18 Maddox Street, Mayfair, London W1S 1PL
Gallery tel: 0207 993 2721. Stuckist tel: 0208 8343 4282 or 07779 303885.
23 Aug - 3 Sept 2010
Open Mon-Sat 10.30 am - 7 pm
Closed Bank Holiday, 30 Aug
Tube: Oxford Circus
Paintings by artists including Ella Guru, Paul Harvey, Joe Machine, Charles Thomson, Eamon Everall, Mark D, Philip Absolon, Peter Murphy, Chris Yates, Jane Kelly, Edgeworth Johnstone, Shelley Li, John Bourne, Jacqueline Jones, Infinity Bunce, Alexis Hunter, Annie Zamero, Ana Ribeiro, Nick Christos.
Image: Paul Harvey's painting of Charles Saatchi
Private view: Thu 26 Aug, 6.30 - 9.30 pm
Register on the
Facebook page
for invite.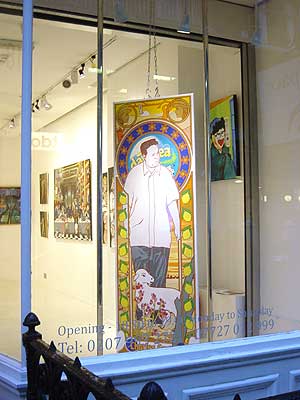 Paul Harvey's painting of Charles Saatchi in the window.
Also visible:
Damien Hirst in Normal Attire
by Nick Christos
and (background)
The Last Supper
by Ella Guru.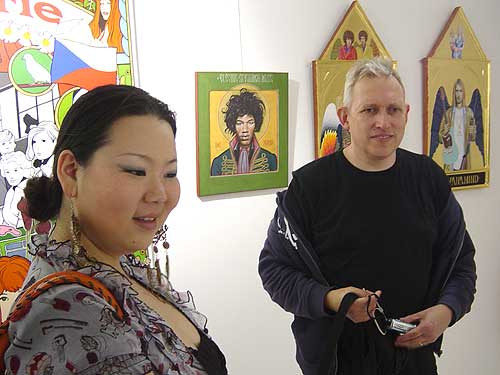 Shelley Li and Mark D. Background right: paintings by Peter Murphy.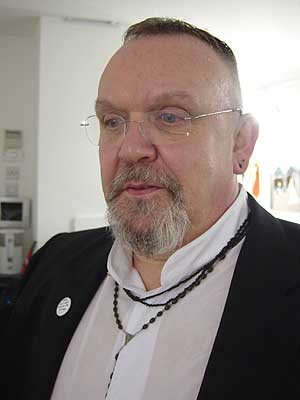 Chris Yates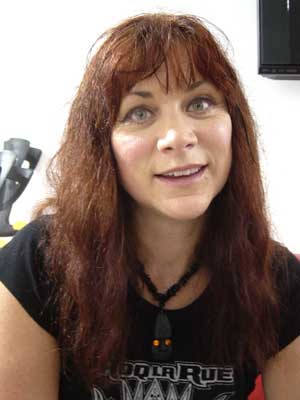 Ella Guru thinking of Charles Thomson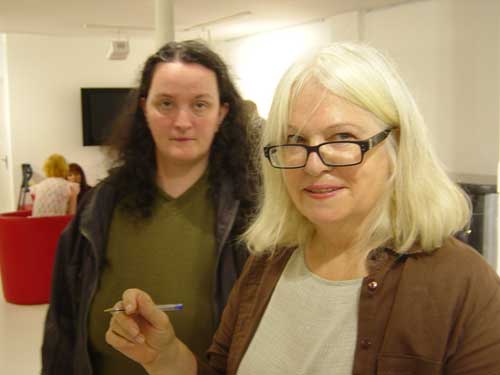 Jacqueline Jones and Alexis Hunter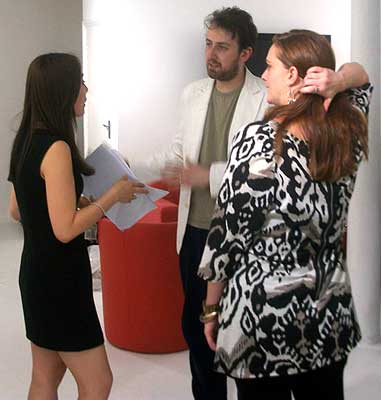 Left to right: Vivian Choi, gallery manager, with some significant documents,
Edgeworth Johstone using hand signals, Kyla Bullows tearing her hair out.
Photo: courtesy of Chris Yates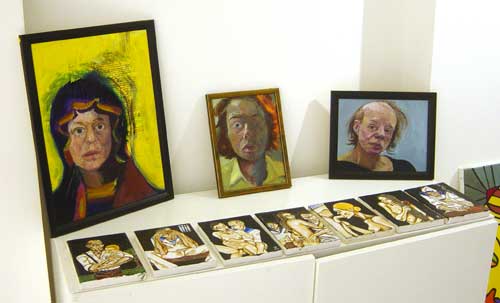 Back: three paintings by Jane Kelly. Front: paintings by Joe Machine.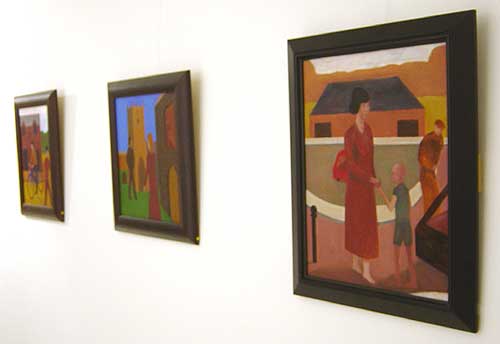 Paintings by John Bourne.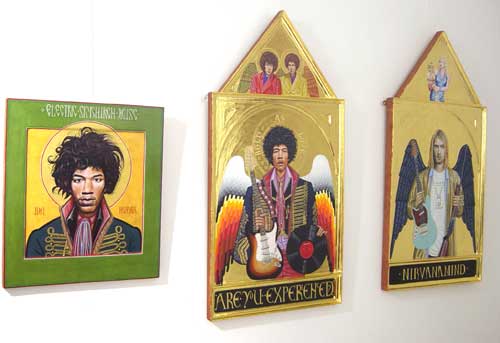 Paintings by Peter Murphy.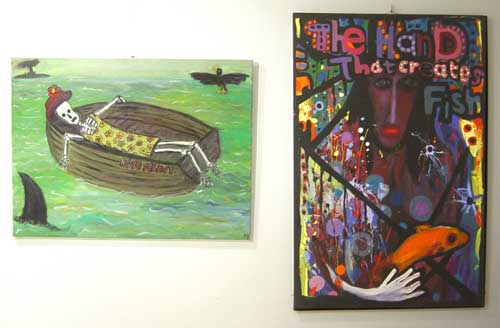 Left:
Duchamp Is Dead and all Adrift at Sea
by Mark D.
Right:
The Hand that Creates Fish
by Chris Yates.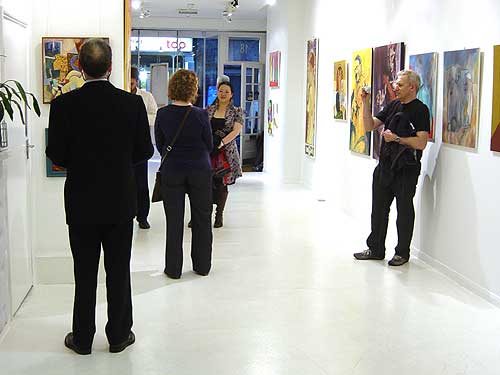 Left to right: dunno, Tully Randall, Shelley Li, Mark D.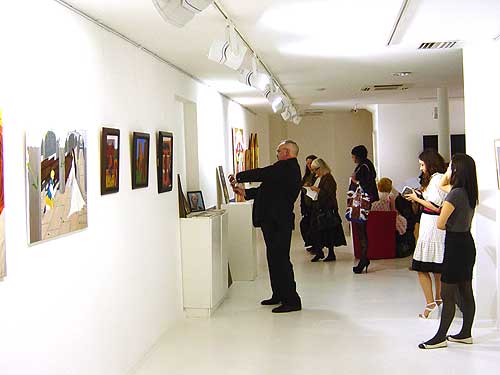 Left to right: Chris Yates doing something, Jacqueline Jones, Alexis Hunter,
blurbledy blurbledy, other people, woman in white dress is an intern from Russia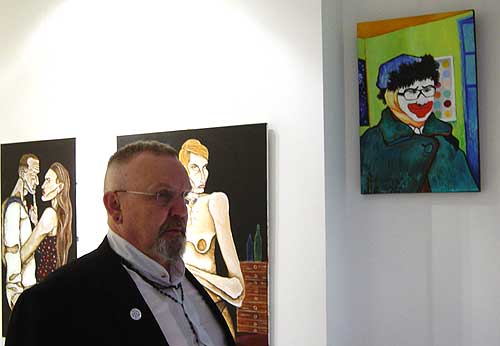 Background paintings, left to right: two paintings by Joe Machine,
Chris Yates
by Nick Christos.
Front figure: Damien Hirst in Normal Attire.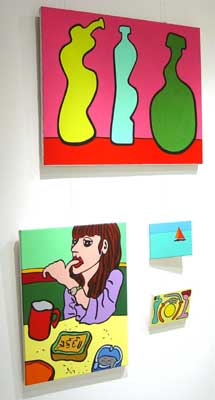 Paintings by Charles Thomson.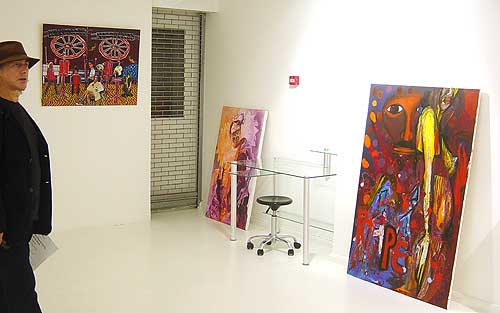 Rick Friend views paintings by Philip Absolon, Annie Zamero and Chris Yates.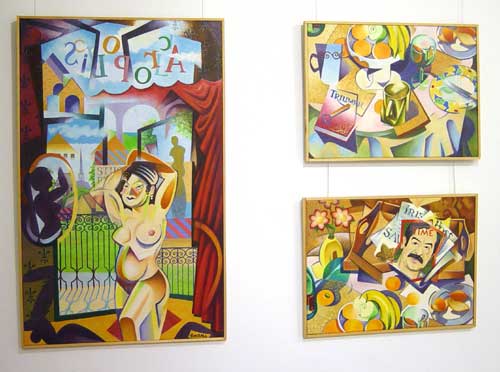 Three paintings by Eamon Everall.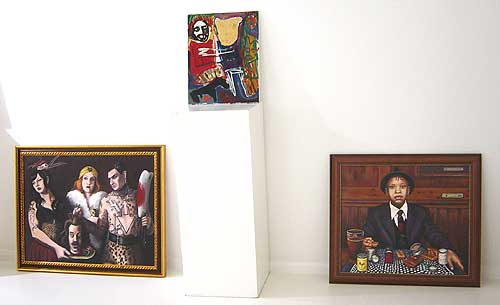 Top: painting by Jacqueline Jones. Bottom: paintings by Ella Guru.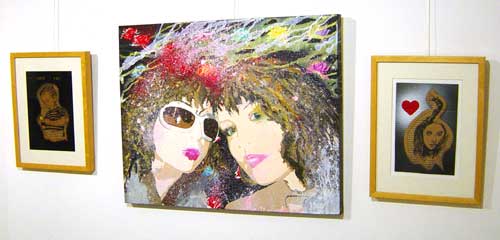 Work by Infinity Bunce.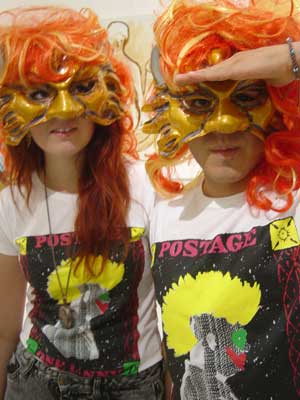 Two Lovers from Maidstone, Kent.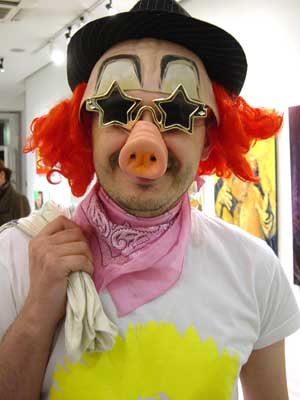 Another person from Maidstone, Kent.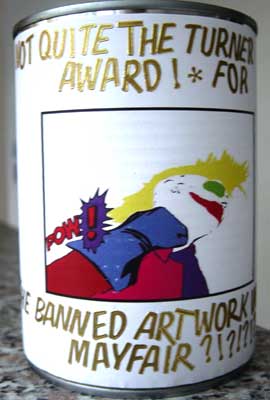 Paul Harvey was presented in absentia by someone
else from Maidstone with this tin, containing an
unknown substance, and marked, "Not quite the
Turner award! * for the banned artwork in Mayfair?!?!?!?"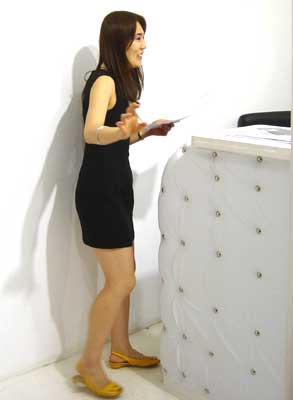 Vivian Choi, gallery manager, fighting shy.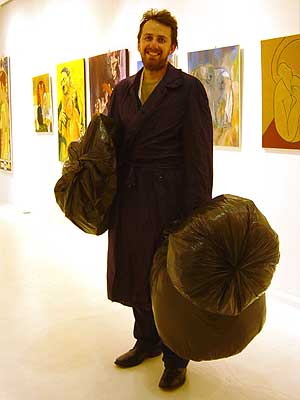 Edgeworth Johnstone with his packed lunch from Shelley.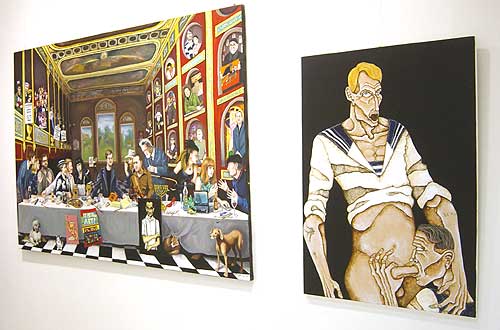 Left:
The Last Supper
by Ella Guru. Right: supper by Joe Machine.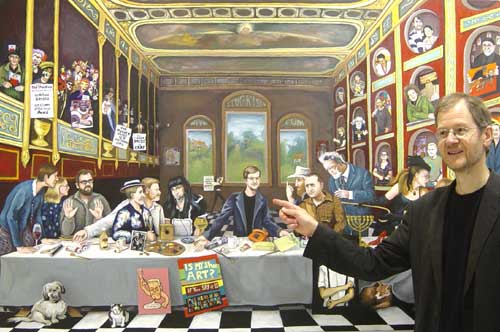 Charles Thomson points to his favourite character in Ella Guru's
The Last Supper
.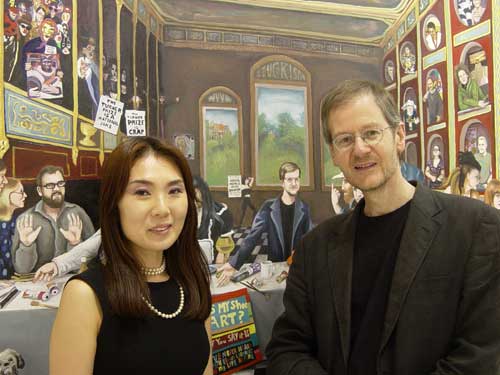 Vivian Choi, Artspace Gallery manager, and Charles Thomson, co-founder of The Stuckists,
in front of Ella Guru's
The Last Supper
.