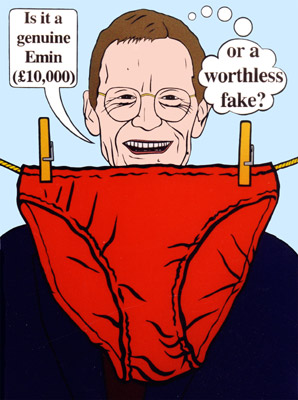 SIR NICHOLAS SEROTA MAKES AN
ACQUISITIONS DECISON
40 x 30"
oil and acrylic on canvas
This was painted in March 2000 over a few days, finally in a non-stop 24 hour stint so it would be ready in time for the third Stuckist show, The Resignation of Sir Nicholas Serota, at Joe Crompton's Gallery 108, Leonard Street, Shoreditch. There was a wall full of paintings on the show theme. It was mentioned in the media for the first time by Nigel Reynolds in The Daily Telegraph and a small black and white image reproduced. Since then it has been included in most London Stuckist shows, as well as The Stuckists Punk Victorian in 2004 at the Walker Art Gallery during the Liverpool Biennial, and has regularly appeared in the media.
It has been quoted by Paul Harvey in two of his paintings, Nicholas Serota and I Won't Have Sex with You as long as We're Married.
See also the article on Wikipedia.
"The Worst of Weeks" for Sir Nicholas when the painting is shown. Independent on Sunday (27.8.06)