Home | Introduction | Contents | Search | Paintings | Manifestos | Essays | Videos | Enquiries

Billy Childish was Co-founder with Charles Thomson of the Stuckist Art Group in January 1999. They co-wrote the Stuckist manifestos. He left the group in June 2001, but continues to support the ideas in his life and work.
"It is not Billy Childish who is stuck, but the rest of us, who haven't confronted our demons as he has, who haven't singled out the important things from all the complicating nonsense, and who don't pursue these as their life's work.
- Andrew Perry, Daily Telegraph 27.7.02


Billy Childish Art or Arse (Quicktime player)
This works on Internet Explorer, but might not work on other browsers.
Thee Billy Childish in heyokamagazine, parts 1 & 2
THE SPAT WITH JACK WHITE OF THE WHITE STRIPES

Now "whingy" White calls in lawyers against the

Aquarium Gallery

to censor the poster!

Independent

(14.3.06).

Latest - the poster has been redesigned with Jack White offered half the huge profit!

See

NME

(16.3.06)

The poster below has been

banned from Ebay

after the White Stripes complained about it. It is available from and published by the Aquarium Gallery in London, who comment, "No sense of humour... The c****!"

The White Stripes may be contacted at

tiffany@monotoneinc.com


Poster showing the Ebay mark

Billy Childish (ex Stuckist) insults Jack White (White Stripes), who insults Billy Childish, who insults Jack White.

See

NME report

. Mr Childish informs us, "my PPS should read - i hope I haven't gone and offended Led Zeppelin now."

www.playlouder.co.uk

comments, "Being far more intelligent than Mr White, and having had a lot of practice at this sort of thing after spats with his ex, wonky faced art loon Tracey Emin, Childish replied rather better..."

White and his "mentor" Childish (cont) in the

Independent

(7.3.06): "

Jack is just being a bit sensitive

".

Re. Jack White Sooks in music and media by Ben Butler. Dear Sir On the subject of plagiarism, which Jack White accuses me of in your artical, he has by unfortunate coincidence, with his remarks on critics who can't be critiqued, just paraphrased the key points of my manifesto, "The Decrepitude of the Critics" published by myself and Charles Thomson in 2000. However, I am pleased to see that my work still provides a stimulus despite our differences. Yours faithfully Billy Childish
BILLY CHILDISH EXCLUSIVE PHOTOS
A series of gritty black and white photos were taken by Eugene Doyen in the mid-eighties of Billy Childish and friends, largely directed by Billy. Tracey Emin, Billy's girlfriend of the time, is in many of the photos.
There is a section 'poetry reading' which also features Stuckists Sexton Ming and Charles Thomson as they were (along with Billy) in their guise of The Medway Poets in 1987 for the recording of The Medway Poets LP. Bill Lewis is out of shot.
See it all on the Superhumanism gallery.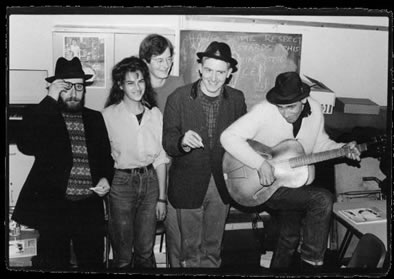 Sexton Ming, Tracey Emin, Charles Thomson, Billy Childish and Russell Wilkinson
at the Rochester Adult Education Centre for the recording of the Medway Poets LP,
11 December 1987. Photo: Eugene Doyen
Billy Childish and Stuckist manifesto in San Francisco Weekly (5.10.07)
Billy Childish in San Francisco Bay Guardian (Aug 2007)

BILLY CHILDISH ON TRACEY EMIN'S STRANGELAND here
See also The Sunday Times (30.10.05)
The film BILLY CHILDISH IS DEAD was shown at the Raindance Film Festival 5.10.05
at the UGC Trocadero, Shaftesbury Avenue, London. It includes the Stuckist 2000 Tate 'clown' demo and Matthew Collings on the Stuckists. Billy Childish was interviewed after the screening.
The DVD is available from Cherry Red + Virgin and HMV stores, and also ebay
Billy Childish in Montreal + mpegs of songs on stillepost.ca
"The Stuckists are... the bane of my life" - Billy Childish in the Independent 27.8.05

Billy Childish (co-founder of and now Ex-, he would like it to be pointed out) Stuckist was on A Picture of Britain series on BBC1, 8.6.05. The BBC write up states: "Although The Stuckists and Childish parted company in 2001, he still supports their ideals." (He had a major part in generating them in the first place after all!).
Billy Childish on Stuckism, "I wish people would stop blaming the entire thing on me",
in Minneapolis City Pages (18.5.05)
CHILDISH DUBBED POL POT OF WHITSTABLE
Satire on www.brian-sewell.co.uk
THAT TRACEY EMIN THING
Billy Childish interview on his novel Sex Crimes of the Futcher (2004). Download Word doc here.
CHILDISH'S INFLUENCE ON TRACEY EMIN'S WORK
This is a subject which has received unsurprisingly little attention in the media and is not mentioned at all in the recent Thames and Hudson book on her.
However, the New Statesman (3.7.00) contained a two-page feature (pages 44-45) by Graham Bendel on this. The article was based on information presented by Charles Thomson in a talk on the same subject at the Salon des Arts, Kensington (25.5.00). Read the article here.
This was also mentioned in the Evening Standard Londoner's Diary (25.5.00) where Emin's 'Exploration of the Soul' was linked with Childish's earlier 'Analysis of the Soul Rancid'.
It is also briefly mentioned in a web article by Ian Aitch. Read it here.
Anyone researching this subject can get more information from stuckism@yahoo.co.uk
See also our page on Tracey Emin.