Home
|
Contents
|
Additions
|
Search
|
Paintings
|
Manifestos
|
Centres
|
Shows
|
Enquiries
|
Email

These black and white photos were taken by Eugene Doyen in the mid-eighties of Billy Childish, Tracey Emin and friends.
The pics are helpfully grouped under categories such as 'Tracey at Home and Posing' and 'Tracey in a Basque'.
Of particular interest, at least to us, is the section 'poetry reading' featuring Stuckists Billy Childish, Sexton Ming and Charles Thomson as they were in their guise of The Medway Poets in 1987 for the recording of The Medway Poets LP. Bill Lewis is out of shot.
Guests on the album were Vic Templar (now managing a shoe shop - not in shot) and Tracey Emin (now managing a 'mini industry').
See more photos on the Superhumanism gallery.
Eugene Doyen writes on Tracey Emin and Billy Childish here.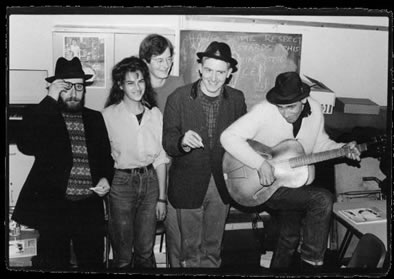 Left to right: Sexton Ming, Tracey Emin, Charles Thomson, Billy Childish and Russell Wilkinson
at the Rochester Adult Education Centre for the recording of the Medway Poets LP,
11 December 1987. Photo: Eugene Doyen
"I've never asked the Tate why they paid so much more for Chris Ofili's work than they did for mine"
Tracey Emin, Independent on Sunday (12.3.06)
BILLY CHILDISH ON TRACEY EMIN'S STRANGELAND here
EMIN 'READERS WIVES' SATIRE
on www.brian-sewell.co.uk
THAT TRACEY EMIN THING
Billy Childish interview on his novel Sex Crimes of the Futcher (2004) and his relationship with Emin. Download Word doc here.
TRACEY EMIN ON THE STUCKISTS
Tracey has been uncharacteristically quiet on the subject of Stuckism (and its now ex co-founder Billy Childish) in the British media, but gave vent to her feelings down under in the Sydney Sun-Herald (3.6.03):
"I don't like it at all," she spat. "I don't really want to talk about it. If your wife was stalked and hounded through the media by someone she'd had a relationship with when she was 18, would you like it? That's what happened to me. I don't find it funny, I find it a bit sick, and I find it very cruel, and I just wish people would get on with their own lives and let me get on with mine."
TRACEY EMIN'S GREATEST INFLUENCE
A perplexing question no doubt, but one which can easily be solved by Tracey's own words from the Minky Manky catalogue 1995.
Carl Freedman: Which person do you think had the greatest influence on your life?
Tracey Emin: Uhmm... It's not a person really. It was more a time, going to Maidstone College of Art, hanging around with Billy Childish...."
So there we have it. It is a person who is not a person really, which is probably the reason why the Thames and Hudson book The Art of Tracey Emin - which proudly boasts "distinguished critics address her achievement in depth for the first time, tracing Emin's influences" - mention Childish only once as a poet whose name is in her tent. Exactly what the critics in question were distinguished for was not stated, but let's hope they do a better job the second time.

2 May 2002
BILLY CHILDISH OR TRACEY EMIN?
That was the iniquitous question put to Toby Paterson, winner of the Beck's Futures Award (£24,000 - ie four grand more than the Turner Prize) by The Scotsman newspaper. I don't know how to say this to Tracey's fans who read this page, but his answer was Billy Childish. His spurious reasoning: "not because I subscribe to the idea of 'Stuckism' but because he's better at swearing." Stupid boy.
Read the rest of the interview on The Scotsman (free registration required).

23.4.01
TRACEY EMIN DISOWNS A PAINTING
Tim Webster wanted to buy a Billy Childish painting in 1982 but couldn't afford the then-going rate of £150, so he settled on a Tracey Emin one instead for £5, because "that was the nearest thing - she was copying him down to the brush stroke."
A few years ago "she tried to buy it back off me... I bumped into her down the [Rochester] flea market. That was the first thing she said to me - have you still got that painting?"
Webster kept the painting until this month, when it raised £3,290 in auction at Christies, more than Webster expected and badly needed after the decline of his business, Aardvark Studios.
Unfortunately, he has not, at the time of writing, received a penny, as Emin is disputing the authenticity of the work.
Billy Childish, her then-boyfriend, comments: "I clearly remember Tracey selling the painting to Tim Webster... and her being very happy with the deal."
Emin has previously expressed displeasure at the prospect of her early work being resold.

23.4.01
TRACEY EMIN - QUOTE OF THE WEEK
"He's such a rude arrogant person"
About radio presenter John Humphreys, on BBC TV panel programme 'Have I Got News for You'.

3.7.00
EMIN'S CHILDISH INFLUENCE
The New Statesman (3.7.00) contains a two-page feature (pages 44-45) by Graham Bendel on how much Tracey Emin's work has been influenced by her ex-boyfriend Billy Childish.
The article was based on information presented by Charles Thomson in his talk on the same subject at the Salon des Arts, Kensington (25.5.00).
This was also mentioned in the Evening Standard Londoner's Diary (25.5.00) where Emin's 'Exploration of the Soul' was linked with Childish's earlier 'Analysis of the Soul Rancid'.
Read the entire article by searching under 'Billy Childish' on the New Statesman website, then sending them $2. Alternatively try your local reference library.

23.11.99
TRACEY EMIN v BILLY CHILDISH v TURNER PRIZE 1999
An interesting web article by Ian Aitch, touching on the early connection of Emin and Childish and her reaction to Stuckism's foundation, according to Childish. Read it here.


1984, Tracey Emin's first TV appearance - dancing in front of Billy Childish's band
The Milkshakes, and sitting next to him, while he is interviewed (4 minutes into clip).