MODERN ART OXFORD 2007
Stella Vine exhibited at Modern Art Oxford, 17 July - 23 September 2007. Press release here. Curiously her CV jumps from 1999 to 2003: "In 1999 Vine studied painting part time at Hampstead School of Art. She opened the Rosy Wilde gallery in 2003." This omits to mention that in 2001 she joined the Stuckist movement. The missing episode can be found here + photos
The Stuckist connection was made in press coverage of the show, as seen below.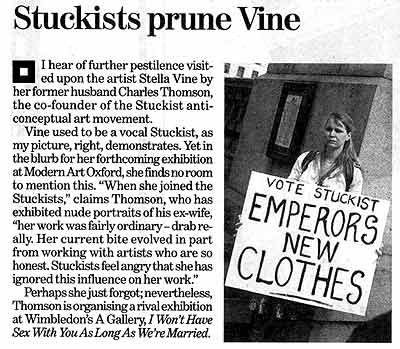 Pandora by Oliver Duff in The Independent (3rd story) (5.6.07)
Stella Vine and Stuckism on Morrissey-Solo Forums here
Stuckist "cult" with "slightly sinister leader" says Rachel Campbell-Johnston
in The Times (18.7.07)

Guardian blog by Paul Moody on Stella Vine and Stuckists here (12.7.07)

An article on Stella Vine is not entirely complimentary to Stuckism - there's a surprise! The Observer (8.7.07)

Waldemar Januszczak attacks the Stuckists in The Sunday Times (10.6.07)
The Sunday Times magazine, page 17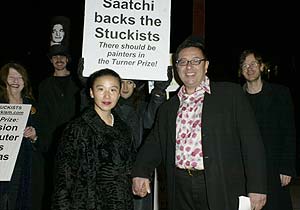 Photo: Almasi
Waldemar Januszczak joins in the Stuckists at the
2004 Turner Demo.
Letter in The Sunday Times (17.6.07)
Sticking up for the Stuckists
I was very sympathetic when Stella [Vine] told me about her problems with her stepfather (The Paint Stripper, Magazine, last week). However, as her accounts of our relationship become increasingly imaginative and removed from reality, I have to question the veracity of her other stories too.
Of course there was a proper, albeit brief, ceremony: you can't get married by accident [regarding Vine's quotes about our marriage]. It is also remarkable of her to have found my diary, as I don't keep one.
When Waldemar Januszczak says nobody in the art world takes the Stuckists too seriously, he is presumably limiting the art world to a metropolitan elite. The Walker Art Gallery in Liverpool, which is a national museum, took us seriously enough to mount a major five-month show for the 2004 Liverpool Biennial, and described it as "a really, really popular show and very successful".
Charles Thomson, Co-founder, The Stuckists, London, N2
And Billy Childish's response to the article, in The Sunday Times (24.6.07) (4th letter)
STELLA VINE'S ONGOING STUCKIST INFLUENCE
For Princess Diana and other earlier paintings see here "I personally know both these artists, Karen Kilimnik and Elizabeth Peyton. I do see Elizabeth's influence but Stella is being dishonest not saying how much the Stuckists influenced her works. This is obvious."


- John Lekay (email 11.6.07), editor

www.heyokamagazine.com

Stella Vine
2001
Below is work done by Stella Vine at the Hampstead School of Art in 2000/2001, before she joined the Stuckists.
Which is the influence?
According to Stella Vine, the 5 artists below are the inspiration for the subsequent change in her work.
Stella Vine
2005
Images are shown alongside Stella Vine's well known 2005 painting of Kate Moss for comparison.


Stella Vine with her work in 2001 in
the Vote Stuckist show, Brixton.

Stella Vine has denied any debt to Stuckist artists in general and Charles Thomson in particular. In an interview in The Sunday Times (15.6.04), she said her inspiration was from Sophie Von Hellerman, Anna Bjerger, Paul Housley, Karen Kilimnik and Elizabeth Peyton. The influence of these artists is apparent in some of her work, but in a painting such as Holy Water Cannot Help You Now the obvious derivation is from the work of Charles Thomson, her former husband, and co-founder of the Stuckists. He said, "Stella was particularly keen on my painting A Single Woman in London Is Never More than Six Inches from the Nearest Rat. She said it showed I understood female sexuality (which I found surprising) and wanted me to do a copy of it for her." The high key colour with a flat background, the simplicity and the composition have a striking similarity, not found in the artists whom she cites as influences.

The connection is obvious to complete strangers. Elaine K. Bond says on the Daniel North blog (12.1.07):

"I used to read English news papers and first saw Stella Vine at The Saatchi gallery...then, when I saw the Stuckists' paintings, I thought: "oh, they're painting like Stella Vine!" I didn't know that she was married to Mr Thomson and was inspired by the 'Stuckist School.'"


Leading Lady by Sophie von Hellermann

Holy Water Cannot Help
You Now by Stella Vine

(Title unknown) by Anna Bjerger

Holy Water Cannot Help
You Now by Stella Vine

Blue Girl by Paul Housley

Holy Water Cannot Help
You Now by Stella Vine

Snow White by Karen Kilimnik

Holy Water Cannot Help
You Now by Stella Vine

Nick and Pati by Elizabeth Peyton

Holy Water Cannot Help
You Now by Stella Vine

According to Stella Vine, the work below is not an influence - judge for yourself!


A Single Woman in London Is Never More than Six Inches from the Nearest Rat by Charles Thomson (2000) - image reversed for comparison

Holy Water Cannot Help
You Now by Stella Vine

Woman with a Hammer by Charles Thomson (2000) - image reversed for comparison

Holy Water Cannot Help
You Now by Stella Vine