WHAT CHRISTIE'S DOESN'T WANT YOU TO SEE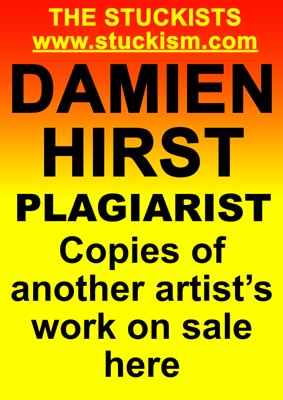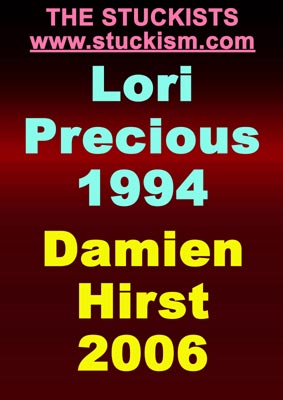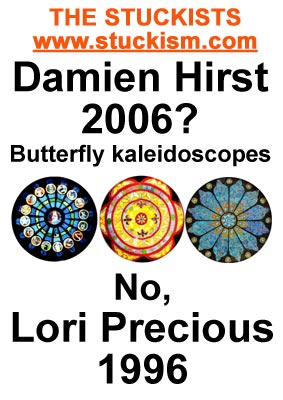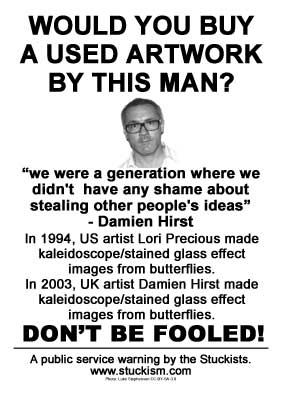 Stuckist protesters outside Christie's auction house in King Street, London, made a 999 call to the police after being assaulted by a member of auction house staff yesterday (14 October).
The demonstration was against the evening sale of post-war and contemporary art, which included a large butterfly kaleidoscope work by Damien Hirst titled I Am Become Death, Shatterer of Worlds (2006).
The protesters wore monster and skull masks and displayed placards accusing Damien Hirst of plagiarising the work of Lori Precious, who had made kaleidoscopic images with butterflies a decade before Hirst.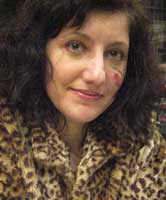 Jasmine Maddock - shouted at by Christie's bully
They were approached by a Christie's official in a dark suit and a foreign (mid-European sounding accent). Jasmine Maddock, a Stuckist from Liverpool, recalls the events: "We were standing peacefully, not obstructing anybody. The Christie's official had a very threatening look on his face. He was intimidating. He came up to us generally and called us a bunch of idiots or words to that effect. He told us to move in 10 minutes. He went up to Charles [Thomson, Stuckist co-founder], and said we would have to move.
"Charles said, 'We have every right to be here. It's a public highway. You have no authority over us to make us move.' The man said, 'You're being funny with me - you're making fun of me.' Charles said, 'I'm not making fun of you.' The man looked angry, walked up to Charles, and pushed him. Charles moved back as the man continued walking forward into him, leaning against him. He was very intimidating. It looked as though he was trying to intimidate him to move.
"Charles went to phone the police. I carried on giving out leaflets. I handed a leaflet, quite peacefully, nice, friendly, smiling, to an old man and his wife. Then the Christie's man came up to me. He came right in my face, really close, about 3" away. He pushed his face right in my face. I was terrified of him. He came really close. I'm slim and 5'5". He's well built and about 6'3". He was threatening - the way he was looking at me. He gave me a really nasty look. A very unpleasant man.
"He shouted at me, 'You're harassing old people.' I didn't do anything. I just gave them a leaflet. They were fine. They smiled at me, pleasant enough. The man was menacing. He had already pushed Charles. I thought, my God, he might hit me or something, if he was enraged. I said, 'I'm not harassing old people. I'm giving out leaflets, smiling, friendly, chatty.' He turned his back on me and stormed off.
"About five minutes later, Charles was still on the phone, a few steps down the road. The man came up to me again. I noticed he didn't approach Emma [Pugmire] or Edgeworth [Johnstone]. He came at me again. I think he thought I was the type that was particularly vulnerable. He said in an unpleasant tone, 'Is this your property?' He pointed at a small collapsed umbrella.
"I had just left it by the lamppost, as it had just stopped raining. I said, 'No, it belongs to Charles. He's on the phone.' He said, 'What about this?' It was something on the pavement. He lifted up a cardboard tube and showed it to me. I said, 'Well, they're not mine.' He said, 'I'm going to confiscate this property.' I said, 'Well, it's not my property.'
Charles Thomson said, "It is disgraceful and anti-democratic conduct by a supposedly reputable establishment to hire a thug to try to silence free speech. They seem to think they own the public highway. This is money and power gone mad. I made it plain to this harassing individual that we live in a democracy where peaceful protests such as ours are a legitimate part of society. We have demonstrated outside Tate Britain against the Turner Prize for 10 years with no problems.
"The man who came out made it obvious that he was acting on behalf of Christie's. I made it clear that we would not be moving. He informed me that we would be. As he had already pushed me, I assumed that he intended further physical force to make good his intentions. He seemed very uptight, if not a bit paranoid, and completely unprofessional. I got the impression from his threatening words and demeanour that he was on the verge of assaulting me more seriously.
"I therefore dialled 999 and spoke to the police, who were extremely supportive, recording my statement of common assault and threatening behaviour by the man. The police confirmed that we had every right to stay put. After my phone call, I informed the doorman I had contacted the police. After that, we were left alone. The police phoned back twice to monitor the situation and take more details. They said they would see if there were any CC camera recordings.
"Damien Hirst admits he steals other people's ideas. We are simply drawing attention to this. If Christie's don't like it, they shouldn't sell Hirst's work. Lori Precious made kaleidoscopic/stained glass effects from butterflies nearly a decade before Hirst. She has been airbrushed out of the story and Hirst has got all the credit for her invention. I hope our action contributed to the pathetic auction result of £1.9 million against an estimate of £2.5 - £3.5 million (excluding buyer's premium)."
A Hirst butterfly work of the same size sold for £4.7 million at Phillips de Pury & Co. in October 2007.
Christie's was established by James Christie in 1766. Artemis, the holding company of French art collector Francois Pinault, now owns it.
The Stuckists art group was founded in 1999 with 13 artists and now numbers over 1,200 artists in more than 200 groups in 48 countries. It promotes figurative art and opposes conceptual art, as well as campaigning against injustices in the artworld.
UPDATE
We are informed by a reliable source: "those aren't Christie's staff - they're bruisers in black jackets whom Christie's get in on big sale nights and who are usually employed in boxing arenas and East End night clubs on other nights of the week!" - which just makes it even worse.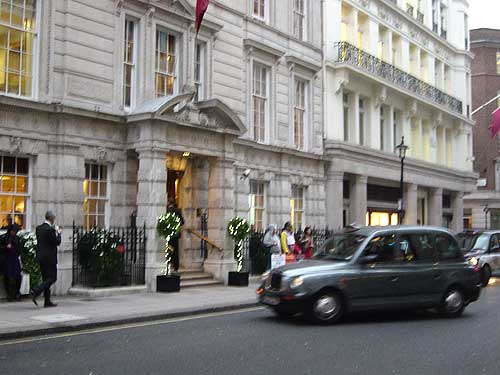 Christie's, 8 King Street, St James, London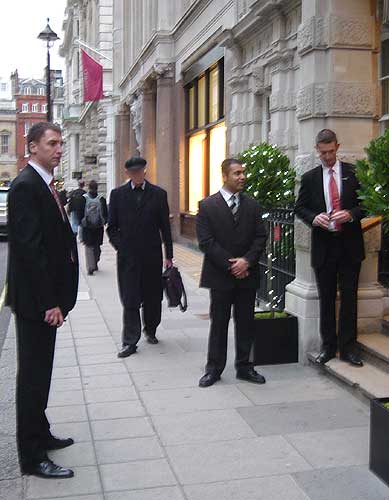 Left: Christie's bully boy who thinks he owns the public highway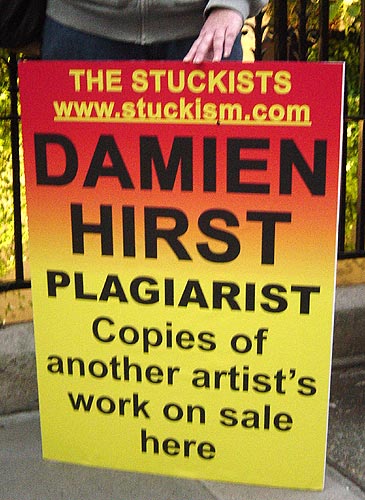 This is what Christie's doesn't want you to see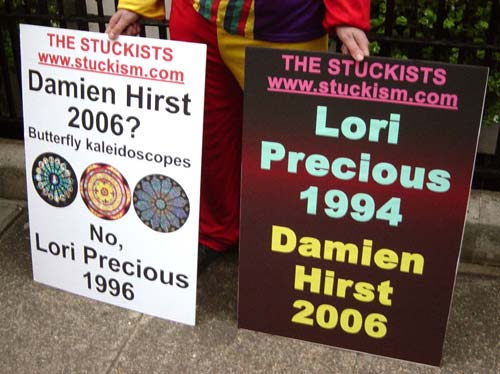 This is also what Christie's doesn't want you to see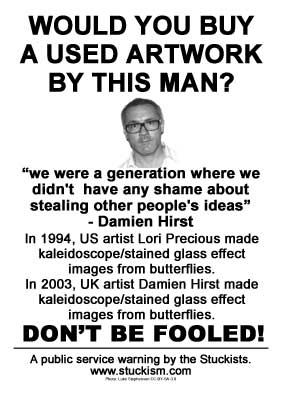 A6 size flyer handed out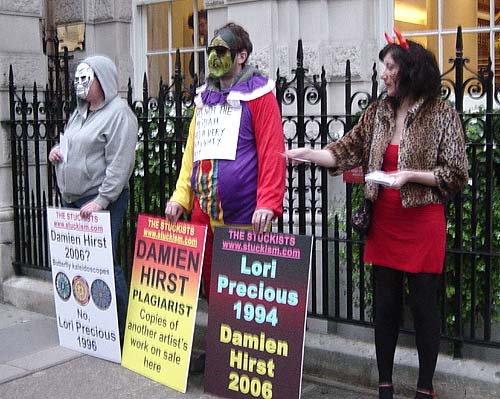 Emma Pugmire, Edgeworth Johnstone, Jasmine Maddock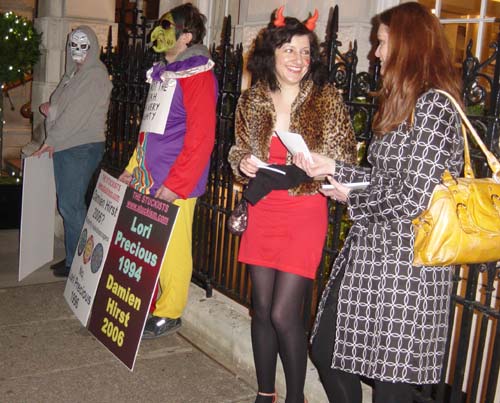 Emma Pugmire, Edgeworth Johnstone, Jasmine Maddock, Kyla Bullow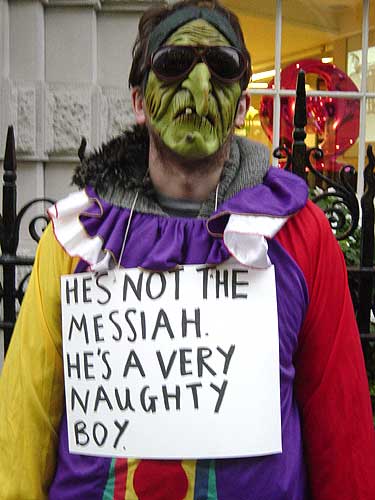 Edgeworth Johnstone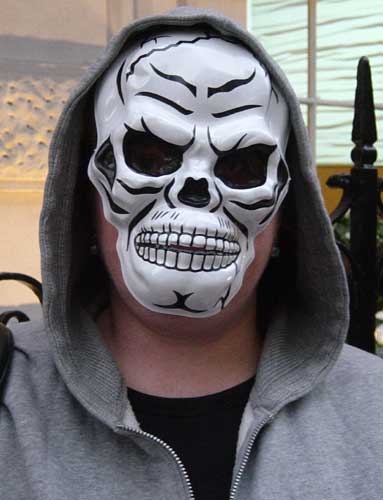 Emma Pugmire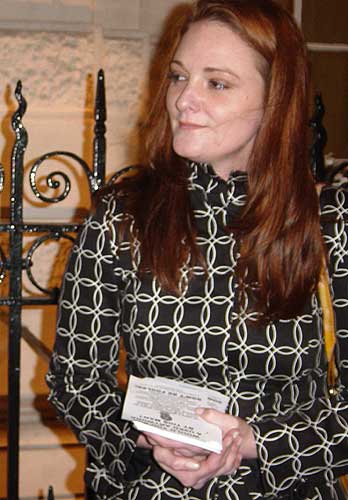 Kyla Bullows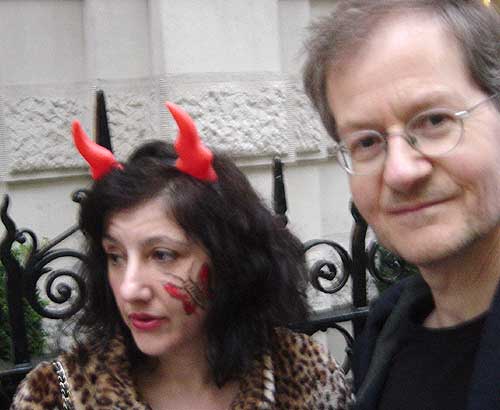 Jasmine Maddock and Charles Thomson