TURNER PRIZE DEMO 2003
Stuckist demonstration against the Turner Prize at Tate Britain 7 Dec 2003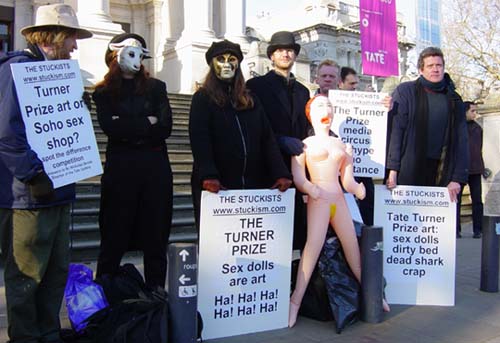 left to right: Philip Absolon, Ella Guru, Elsa Dax, Charles Thomson,
Daniel Pincham-Phipps, Alex Russell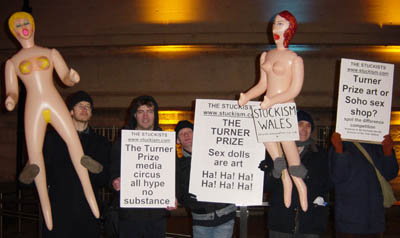 And at night: Charles Thomson, Steve Yates, Daniel Pincham-Phipps, John Bourne, Anon.
The guests for the Prize were given a preview of the 'original' before they went in to see the Chapman Brothers copy inside. Guests included Jay Jopling, Victoria Miro, Sarah Kent ("fucking Stuckists... yes, you can quote me"), Tracey Emin and Dinos Chapman.
Sir Peter Blake (awarding the Prize) started his speech, after being introduced by Sir Nicholas Serota, by saying, "Thank you very much Nick. I'm quite surprised to be here tonight, because two days ago I had a phone call asking if I would be a judge for the Not the Turner Prize. And two years ago I was asked by the Stuckists to dress as a clown and come and be on the steps outside, so I am thrilled and slightly surprised to be here."

Stuckists mentioned in The Guardian, The Times, The Times leader and The Hindu.
There is another demo picture on www.stuckismwales.co.uk.
"Shouldn't it be called the Unlike Anything Turner Ever Did Prize?" Stuckist quote in the Times.
Art: Das Kunstmagazin 2003
"Draußen demonstrierten, wie üblich als Clowns verkleidet, lautstark die "Stuckisten", eine konservative Künstlergruppe, die gegen zeitgenössische Konzeptkunst zu Felde zieht. Ihren Titel "Kunst-Clown des Jahres" musste sich schon zum zweiten Mal Tate-Direktor Nicholas Serota anheften lassen. Nicht bekannt ist, ob er die mit dem Preis verbundene Sahnetorte in Empfang nahm, um sie sich wie im Slapstick-Film selbst ins Gesicht zu schmieren."
Translation:" The Stuckists, a conservative group of artists who react against contemporary conceptual art, demonstrated loudly outside as usual, dressed as clowns. For the second time, Sir Nicholas Serota had to give himself their "Art Clown of the Year" award. It is not known whether he took the cream cake, which goes with the award, in order to push it in his face as in a slapstick film."
"Pop! talk" video on the 2008 Turner Prize features a quick still of the 2003 Stuckist demo.
The New Statesman sexed-up quiz
Iin the New Statesman, Dec 15-30, 2003
Arts Questions set by Rosie Millard, arts correspondent of the BBC 1:
What has prompted the first ever age restriction for a display at Tare Britain? a) Grayson Perry's satin dress b) Jake and Dinos Chapman's bronze blow-up dolls c) Tracey Emin's bath d) A retrospective of nudes by the Stuckists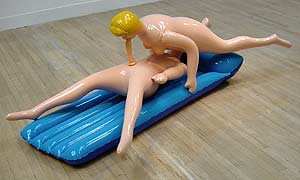 A copy by the Chapman Brothers of the original
found art exhibited by the Stuckists.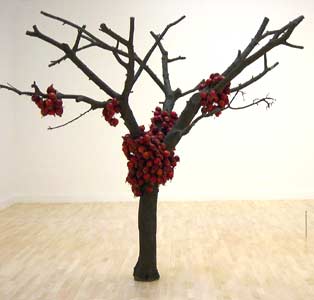 In case you wondered what else you were missing,
here's another exhibit by Anya Gallacio.