TRAFALGAR SQUARE DEMO 2001
Against Rachel Whitread's stupid plinth
4 June 2001
More detailed description of this event here and here.
Stella Vine held up a placard she had made saying "Emperors new clothes".
See Getty images photo and with SP Howarth photo. Later reported in The Independent.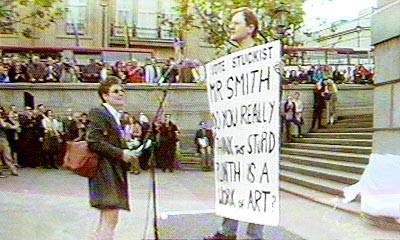 As soon as the unveiling by Chris Smith, Culture Minister, had finished, Stuckist demonstrators, including Stella Vine and S.P. Howarth, held up placards, while Charles Thomson got onto the podium in front of Whiteread's plinth, and displayed a sign saying:
"VOTE STUCKIST. MR SMITH DO YOU REALLY THINK THIS STUPID PLINTH IS A WORK OF ART?"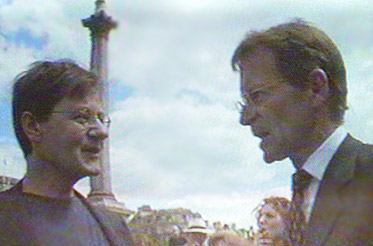 Sir Nicholas Serota was not happy and made his feelings known.