NATIONAL PORTRAIT GALLERY AND TATE 2000
The first Stuckist leafleting, 25 October 2000
Stuckist Co-founders, Charles Thomson (left) and Billy Childish (right)
at the Channel 4 Turner Prize party, Tate Britain, 25.10.00
Charles Saumarez Smith, then Director of the National Portrait Gallery, couriered an invite to Billy Childish to the private view of the new show there, Painting the Century, on 25 October 2000. He went along with Charles Thomson. Saumarez-Smith expressed his support for the campaign for figurative painting. Childish and Thomson handed out their Turner Prize manifesto to the guests, many of whom also expressed their support.
They then went to the Channel 4 party for the Turner Prize and also handed out leaflets, but were asked to leave, despite guests approaching them and asking for copies. They were later readmitted.
Ranko Bon has some more information, which is also in his Residua (Addendum I, 26.10.00).
---
PRESS
The Evening Standard reported on 26 October 2000 (Londoner's Diary, page 12):
Uproar at Tate Britain last night when artist and former lover of Tracey Emin, Billy Childish, was turfed out for handing out The Real Turner Prize manifesto. Childish, who had been invited to Channel 4's 10th Anniversary Party for supporting the Turner Prize, was acting under his remit as cofounder of The Stuckist movement which opposes Brit Art. "I've just been to the National Portrait Gallery for the private view of Painting The Century and handed out our manifesto to the gallery's directors and many of the guests, including Lord Baker, who were all very supportive," he told me outside Tate Britain. "Yet here, within 10 minutes, I am frog-marched to the door and turfed out onto the street because even though I promised not to leaflet, I refused to have them confiscated."
It was later mentioned in The Observer, 24.10.02:
The Stuckists are a collection of artists who, until recently, were spearheaded by Childish and his friend Charles Thomson. They are, according to their literature: 'against conceptualism, the jingoism of Britart, and the cult of the ego-artist'. To this end, they demanded that the director of the Tate, Nicholas Serota, resign (he refused). They turned up at the Turner Prize dressed as clowns. And they've written and attempted to distribute a whole wad of documents - not always successfully, as Childish discovered when he was ejected from the Tate's Turner Prize party for trying to pin a leaflet to the actual prize.
---
LEAFLET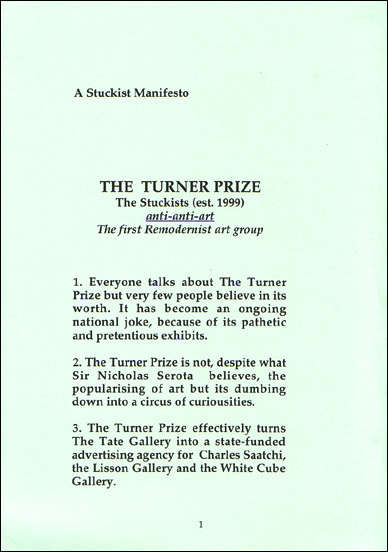 The front of the 4 page A6 size Turner Prize manifesto, which was handed out
(co-written by Billy Childish and Charles Thomson, published by Childish under his Hangman imprint).